I just finished my first speed scrap at the
Stuff to Scrap Forum
and it was so much fun! My LO leaves alot to be desired but that's part of what made it so fun. LOL!
I just had to use the pictures of the hot SWAT Team guys that were at school Friday for Truck day! Look at them! Can you blame me!
I figured Flowerscraps Snakes and Snails Kit would work for these manly men. I even thought I was going to be able to pull off an OK layout until the directions came to use at least one flower and a doodle. LOL! I used the cherry blossoms and the beaded wire from Flowerscraps portion of the Chocolate Cherry Blog Train that went around in February.
I wonder if Deanna will ever talk to me again! LOL!
Anyway here's my wonderful layout for everyone to see...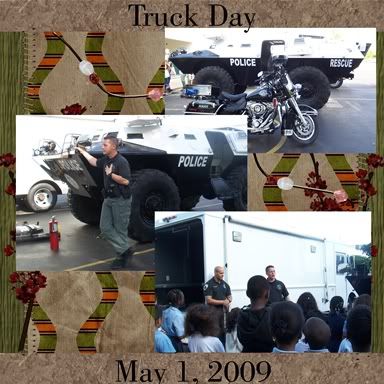 You really should join in on the fun at
Stuff to Scrap
today if you can. There will be another speed scrap later today that Deanna is hosting and there are lots of other things going on too.