Download wordart
here
Apparently I slept through some serious rain last night! The lower lobby of my building was flooded this morning and I got my new flip flops wet. BUMMER! There was even standing water in the parking garage. Glad I slept through the storms!
Tonight I was craving something and I just couldn't figure out what I wanted so I started searching through the cabinets. I found a packet of blueberry muffin mix that had been part of a Christmas basket I received. It was the kind that you only have to add water to and I thought that maybe I could handle that. LOL! Well, I mixed the powder and water and went to turn on the oven. It only took me a moment to figure out that I had turned on the stove instead of the oven. No kidding!
Then I went digging through the unused pots and pans for the muffin pan only to remember that I had taken it to school years ago to be used in one of the centers. The little muffin sections make it perfect for the kids to use when sorting things. LOL!
So, I found a bundtlette pan that must have been a present from my mother so many years ago that I can't even remember getting it. It's used to make mini bundt cakes and I've never made one of those so it was still sitting unopened and unused in the box.
I poured the mix into the bundtlette pan, popped it into the oven and set the oven timer. Well, they
looked
cute when I took them out of the oven. They weren't cooked in the middle but the top and bottom parts didn't taste too bad. LOL! Next time, I think I'll just stick with the cookies!
I have one more layout using
Flowerscraps
The Old Swing Kit to show you. If you haven't gone by her blog to pick it up make sure you get it soon!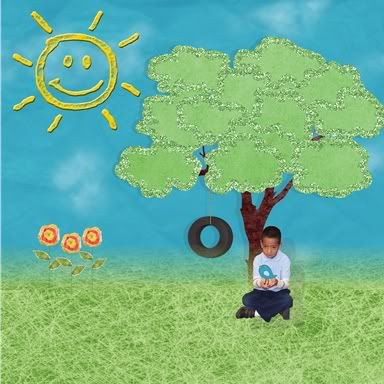 My buddy April has returned from vacation and posted an adorable QP freebie on her
blog
for you. Here's a preview for you to see...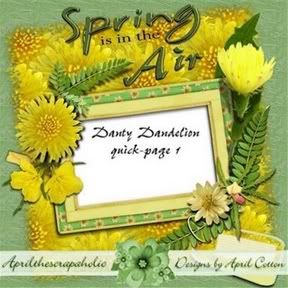 She used her
Dainty Dandelions
Kit to make the QP. I played with it tonight to and this is what I came up with...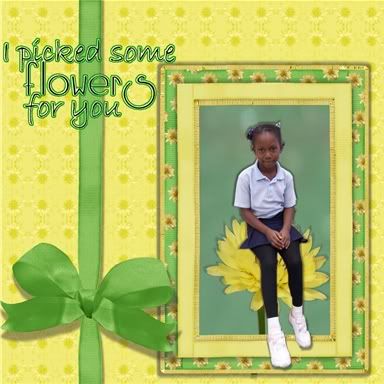 You can have my layout as a QP too. So go
here
to pick up April's QP and go
here
to pick up mine.
I'm tired and going to bed now. Enjoy your day!