Download wordart
here
I didn't do as much dreamin' last night as I would have liked. I stayed up way too late and thanks to another thunder storm I was up way too early. Can you spell naptime? LOL!
I wanted to share a new and improved kit by Nicole at Stuff to Scrap. It's called
Dreamin
and is an amazing kit! She has revamped it and added more papers and elements. Just check out this preview...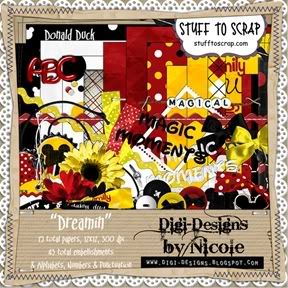 Orlando is only a three hour drive away and we make that trip several times a year. I've got tons of pictures from those trips that I haven't done anything with, but this kit is just what I've been looking for. I know it will be perfect for your Disney trips too and at only $3.99 it's an awesome buy too!
What are you waiting on? Head on over to
Stuff to Scrap
!