Download wordart
here
There are a couple of things I did today that I can't believe. First off, I can't believe I set the alarm clock to go off on a Saturday. LOL! I had errands to run and I wanted to get them done before the NSD fun started in the forums. Of course, I just turned the alarm off and went back to sleep. LOL!
I got my errands run and spent lots of time online today. Didn't get anything done around the house, but who cares! We had so much fun on the
Stuff to Scrap Forum
today. I took part in my very first speed scrap, played bingo and spent way too much time in the chat room. The result of my first speed scrap are in the post below this one and it's not very pretty. LOL! But the hotties from the SWAT team are pretty!
The second thing I can't believe I did was talk to the guy I was waiting in line behind at Walgreens. The guy I was behind was Mark Consuelos! Do you know who I'm talking about? He played Mateo on All My Children and is married to Kelly Ripa.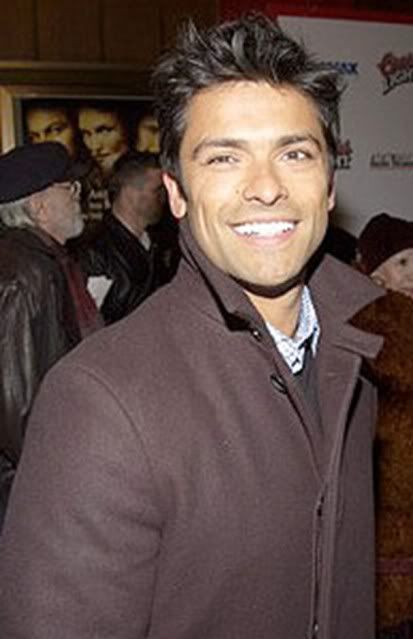 My Walgreens always has a line at the pharmacy and they never have enough people working! Today was the first time I didn't mind. LOL! There was one customer being waited on and two more waiting. I got into line behind the cute guy thinking he looked familiar. Once I realized who he was I decided that I just had to talk to him. So, I leaned up and asked him if he had been waiting long.
I am such a dork!
He said that he hadn't but that he felt like it probably was going to be a long wait. I told him that wasn't good news, but in my head I was thinking,
"I'm enjoying the view so I don't mind!"
LOL! I told you I was a dork!
Well, the line moved and someone else came to help at the register so it was his turn and he was at the register farthest from where the line started. I turned to the girl waiting behind me and told her who I thought he was and we were both staring at him and smiling from ear to ear when he looked around and caught us. LOL! They asked him his last name and he confirmed that I was right when he said "Consuelos"
Apparently he has a sick child.
Poor baby!
He was told that he had a 30 minute wait for the medicine. When I left he was standing in the parking lot talking to his taxi driver. By the way, I'm 5'4" and he's not really that much taller than I am, but he does smell good. LOL!
I haven't attempted Tammy's tutorial at
Aimee Asher
on making a background paper yet. But, I have seen some that others have made and they are looking good. Maybe I'll fit that in tomorrow.
April
is letting me share a coupon to her store at Scrap it Sassy with you. It's good for the whole month of May! Spend at least $10 in her store and you save $3.00. That's a pretty good deal, but they have a sale going on now so it gets even better! Make sure you get the code off the coupon.
By the way, the wine tasting was lots of fun the other night. Too bad I didn't have my camera with me!
I'm heading off to bed now. Enjoy your day!