Download wordart
here
As I type this I'm printing 102 certificates of completion to make our Rolo diplomas for the end of the year. The good news for me is that everyone is responsible for wrapping their own candy rolls. LOL I'll post a picture of mine when they're done. My poor friend, Terry was the one that went to the store and bought all the Rolos for us. She said she was given some strange looks. LOL!
I thought I was seeing the light at the end of the tunnel, but I've added more things to my "to do" list. As a matter of fact, I really need to made a "to do" list so that I'll remember everything I need to get done. LOL!
I am now making the beach scene layouts for the 6 other kindergarten classes. I'm still working on the end of year movie and the school computer isn't playing nice so I'm afraid I may have to bring that project home. I've been asked to redo the Kindergarten Memory book I made for the kids to complete last year by a first grade teacher so she can do it with her class. I also need to redo the cover on the Memory Book for Kindergarten for that it will have this year's date on it. While doing all of this I've got to pack up my class for the summer while also decorating it for the luau party.
When June finally gets here, I think I'll sleep through it. LOL!
I finished the beach scene layout for my class and thought you might like to see it too...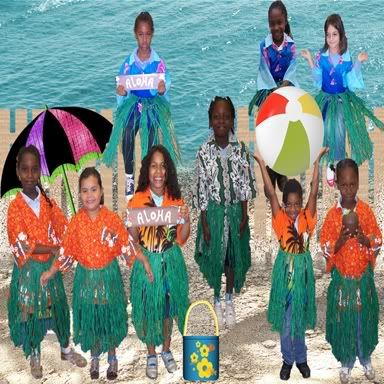 Now the printer is finished printing so I'm going to bed. Enjoy your day!