Download wordart
here
I found my resort pass without really looking for it. It was as simple as picking up a box of things I brought home from school and moving it. LOL! I must have placed the resort pass on desk then put the box on top of it without thinking. You know I never would have found it if I had really been looking!
The big topic of conversation at school today beside the number of days left was where we would be getting lunch of Friday. LOL! Looks like it's going to be The Ale House.
I used the pictures we've been taking to make this Luau party page. It's going to be used as the card front the boys in my class get inviting their parents to the party.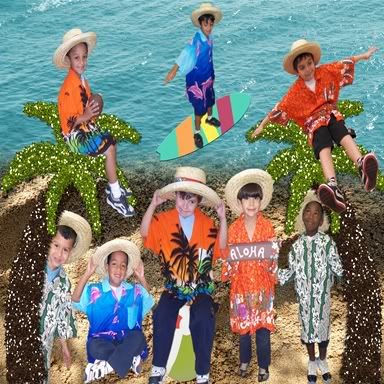 The surfboard and water paper are from
Shel Belle's
Tropical Punch kit. The sand is from a freebie I picked up at JK2X. The beachball and trees were part of the Sunshine Beach Blog Train
The girls gave me a hard time because I didn't get their page finished. LOL! I've been working on it and wishing that we hadn't put the grass skirt on them cuse it makes it so much harder to do the extraction.
I'm tired and need to get some sleep. Enjoy your day!