Download wordart
here
I really think that someone snuck some extra days into this week when I wasn't looking and it isn't funny! This feels like the never ending week. LOL!
Tomorrow we're celebrating Johnny Appleseed. That means more play then work and that's always exhausting! Exhausting, but fun! LOL! Now, let's just hope I remember to stop at the store in the morning to pick up the rest of the things I need.
Earlier in the week we had our 2nd Zero the Hero day and guess who forgot to pick up some zero shaped snacks. Luckily, I still have a box of Fruit Loops from the 10th day of school and I used that. Thank goodness the Fruit Loops were buy one get one free that day! Now, my kids think that Zero the Hero is going to come and leave them cereal every 10 days. I'll Make it up to them on the 30th day of school---if it ever gets here! LOL!
April sent us some great postcards from Texas today. They had some great pictures of Dallas and Fort Worth. The kids loved the Texas Longhorn...I loved the cowboys. LOL!
Something exciting did happen today. My blog now has over 100,000 hits! I remember being excited when I got the 100th hit. LOL!
Are you getting ready for Halloween? Shel Belle Scraps put a great kit in her
Stuff to Scrap store
today called
Haunted Halloween
. The kit has 15 papers, 39 elements and 6 alphas! Check it out...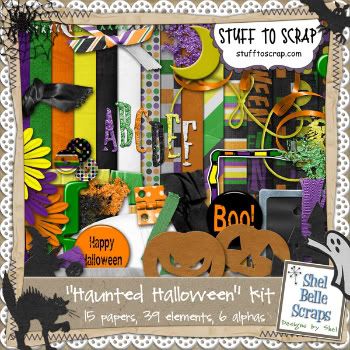 There's also a set of
worn papers
that go with the kit...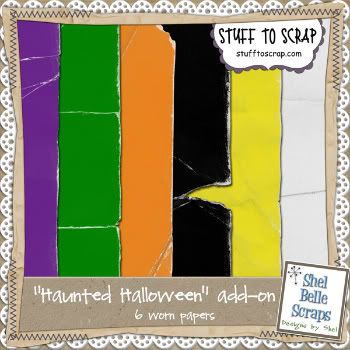 A couple of us will be making some quick page freebies for you and you'll be able to pick those up next week. Right now
Haunted Halloween
is on sale for 30% off so don't miss it!
I've got to go get some sleep now. Enjoy your day and look for me at
digifree
!