Download wordart
here
I have gotten so bad since I've been on vacation! I got a phone call from the girl that cuts my hair saying that I was late for my appointment and wondering if I was still going to come or if I needed to reschedule. I laughed and said that I thought my appointment was on Friday. She informed me that it was Friday. LOL! Needless to say, I've rescheduled the appointment for next week.
My computer and I have had a much better time lately. I think we like each other again. LOL! Lets just hope this truce lasts for a long time.
We've had lots more rain and I am getting so tired of it. Looks like we're in for a rainy weekend too. Guess I'll be taking plenty of naps. LOL!
April has finished her Positively Paisley Kit and it's in her store at
Scrap it Sassy
. I just can't believe how big this kit is and for only $5.99 you are really getting your money's worth! Just take a look at this preview...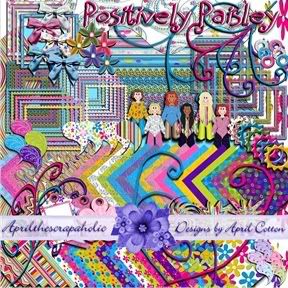 Enjoy your day!