Download Wordart
Here
In honor of surviving my first week back at school I thought I would stop in and give you an extra wordart. I thought this one was a perfect fit for how I feel this week. LOL!
On Monday I'm losing two students, but gaining three. How's that for Dade County math? LOL!
I also wanted to tell you about this super cute kit by Sudesh Designs. It's in the store at
Stuff to Scrap
and it's only $4.00! This fun, colorful kit comes with 13 papers, 42 elements and a full alphabet set. Just check out this preview...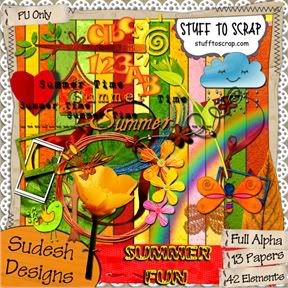 Don't you just love all those bright colors? You just can't go wrong with this kit!
I'm going to meet up with my friends for a couple of drinks now. I'll be back later with a QP for you from one of
April's
awesome new kits.