Download wordart
here
We had a very smoky day here. One of the waterfront mansions caught on fire this morning and as of ten o'clock tonight the firefighters were still fighting hot spots. That's after a day of trying to control the flames from the ground and from the fire boats on the water. The house was built in 1925 and looked like a castle with turrets, iron gates, a drawbridge and even a moat. It was very unique and looked out of place so lots of locals didn't like it and called it "an eyesore".
So far they don't know what started the fire, but the house has been sitting empty for awhile now. It's a prime piece of property on the water with neighbors like Calvin Klein.
I guess not spending the day with my friends was a good thing because I actually got a lot done! I wonder how long this bout of energy will last? LOL!
I've had the Rainbow Connection Kit by
Carol's Digiscrap Creations
for a long time now and I pulled it out to play with tonight. I used some pictures of my friend's daughter and made this layout...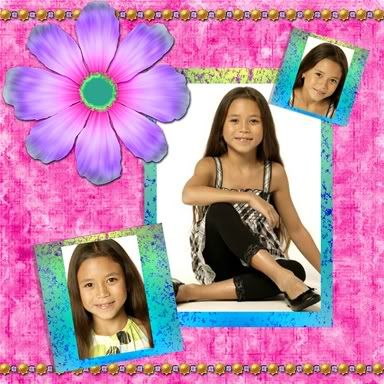 This kit is great and has so many different colors and elements in it that it can be used for all kinds of pictures. It's also on sell now for 30% off in Carol's Store at
Cool Scraps Digital
Is there a basketball player in your life? If there is you need to check out this kit by
Mad Genius Designs
. It has 12 papers, 31 elements and an upper case alphabet for only $3.99.
Don't you just love this kit? You can pick it up in the Made Genius Store at
Stuff to Scrap