Download wordart
here
There's no school tomorrow so today was our Halloween celebration and that means lots and lots of snacks. I was so full of junk I had a headache and a tummy ache by the end of the day. LOL!
I am so glad I don't have to go to school tomorrow! Yea for long weekends! This weekend is going to be a great one. Halloween on Saturday. Sunday is the first of November and that means the
Stuff to Scrap
Blog Train starts. The new challenges get posted in the
Stuff to Scrap
forum. For the month of November there is going to be a challenge a day on top of the normal challenges. Plus, November is the best month ever because it's my birthday month!
Today was the first day of an awesome three day sale at
Stuff to Scrap
. Check it out to pick up some great kits at an even greater price!
April has been hard at work on some new kits. She has added a kit called
Holiday Baking
to her store. This is an awesome kit and will look so cute with some pictures of your Holiday baking. Notice I said YOUR Holiday baking. LOL! We all know I won't be doing any baking!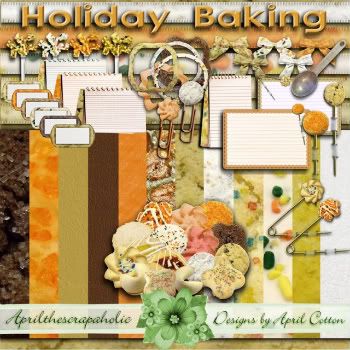 April has also put some
snowglobes
in her store that match the
Autumn Kisses kit
. These are just adorable! Take a look at this preview...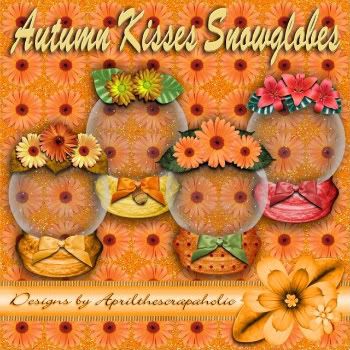 I just love these and of course I had to pull out the Autumn Kisses kit and make another layout. I saved it as a QP for you and the download link is below the picture.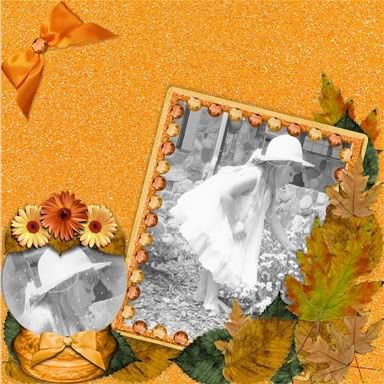 Download QP
here
Make sure you pick these up in April's store at
Scrap it Sassy
soon because they are on sale for 50% off!
I'm going to get some sleep now. Enjoy your day and look for me at
Digifree
!