Download wordart
here
So the girls at school thought it was wrong that I leaned up and smelled Mark Consuelos at Walgreens the other day. He was standing right in front of me! What else was I supposed to do? LOL! I think they're just jealous of me. I informed Natalie that she's not the only that gets to hob knob with the rich and famous. Thankfully, she was kind enough not to point out that she hob knobbed at the Oscars and I was only at Walgreens. LOL!
Kim, my friends daughter, has a broken heart. She is a junior at the University of Miami majoring in Marine Science and her now ex-boyfriend is in fire fighter school. They dated in high school, broke up, got back together and have now broken up again. She is sad. Her mother is sadder!
Her mother is sad because there are no magic words to take away her daughter's pain and there is no band-aid large enough to cover the wound. For the first time, as a parent, she feels lost.
It's easy to tell your child that time and space will help. It's easy to try and distract her with other things. It's easy to blame the boy for everything. LOL! It's hard to watch your child cry. It's hard to know that their smile just covers up the sadness. It's hard to accept that they are way past the age where a new toy can fix everything.
Soon, Kim will be going to the Keys to do a summer internship at
Dolphins Plus
. If you happen to be down there and see her, please tell her to keep her chin up, better days are ahead. If you see her mom, please offer her a Kleenex and a strawberry daiquiri. LOL!
OK, enough sadness! On to happier topics. Summer will be here before you know it and I am so looking forward to being on vacation! In the mean time, I'm still getting ready for the luau themed party. I made a label that fits a 3 oz bottle of bubbles. I bought my bottles 3 for $1 at the dollar store. Once again I used graphics from
Shel Belle's
part of the Sunshine Beach blog train. I also used graphics from her Tropical Punch Kit.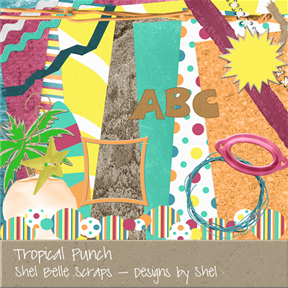 Here's a picture for you to see...
Sorry the picture isn't better. If you would like the label, you can download it
here
.
It's past my bedtime! Enjoy your day!