Download wordart
here
Today I had to go by Michaels after school. I ran in picked up exactly what I needed and went to stand in line. I was standing there thinking, "Wow, there are a lot of men shopping in Michaels today." when one of the men turned around and started talking to me. He asked if they were in my way or if I needed help with something. That's when I noticed that they were all wearing nametags. They weren't standing in line---they all worked there. LOL! You should have heard them laughing when I told them why I was standing behind them.
April has added another Holiday Baking kit to
her store
. It's super cute! Here's the preview...
There's still time to send April a recipe card for the recipe exchange and you can add this kit to her first Holiday Baking kit to make the card!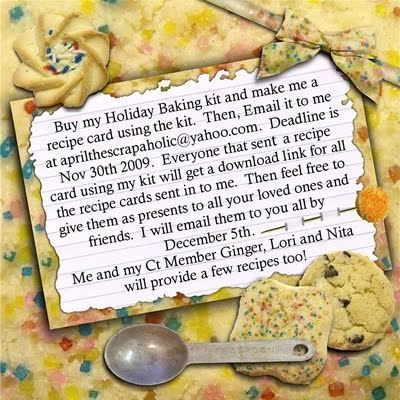 Now head on over to April's store at
Scrap it Sassy
to pick it up!
I'm heading to bed now. Enjoy your day and look for me at
digifree
!